The coronavirus pandemic with 26 million cases and 440 thousand victims plunged the US economy into the worst recession since World War II.
At the end of 2020, American GDP fell by 3.5%, or $ 506 billion, the Bureau of Economic Analysis reported on Thursday.
In monetary terms, the world's largest economy contracted by an amount comparable to the annual GDP of Belgium or Thailand.
The negative result for the whole year is the first for the United States in 12 years, and its value is a record since 1946, when GDP fell by 11.6% due to demobilization after the war.





The pandemic, which left tens of millions of unemployed, threw the economy back 2.5 years: its current size corresponds to the summer of 2018.
Against pre-crisis levels, however, GDP is losing only 2.5%, draws the attention of ING economist James Knightley: after a failure of almost 31.4% in the second quarter, there was a comparable rebound in the third and an increase of 4% in the fourth.
At the same time, consumer demand in the last months of the year grew by 2.5% year-on-year.
Large-scale aid programs, funded by budget deficits and the Fed's printing press, have left a record amount of money in the hands of Americans. Stocks of cash and deposits have replenished by $ 2.4 trillion, Knightley points out, and in relative terms exceeded the records of the second half of the 1980s – 65% of GDP.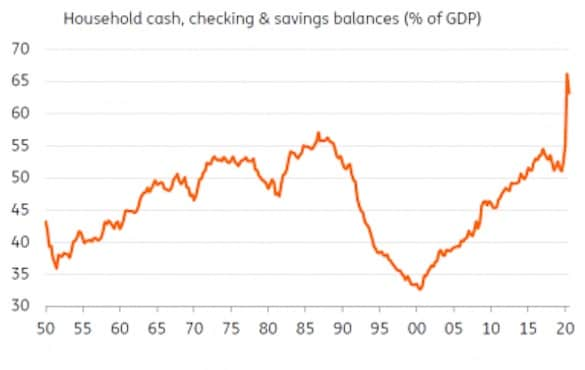 More than half of the new $ 1.9 trillion stimulus plan from the Joe Biden administration will go into the pockets of consumers in the form of "helicopter money."
Direct payments of 2 thousand dollars to citizens (with an income of up to 75 thousand) will be added to the package of assistance to the unemployed, who are paid an additional 1.6 thousand dollars a month.
As the vaccination rate approaches a million doses a day, and the White House expects to increase it to 2-3 million doses, the prospects for "opening up" the economy become more confident, Knightley said.
This will generate a catching-up demand in sectors "forbidden" during a pandemic – travel, services and entertainment. At the end of 2021, US GDP will add 5%, ING predicts.