US inflation continues to accelerate amid record infusions from the Fed, soaring commodity prices and massive consumer assistance programs that propel demand and promise the economy record growth over the past 40 years.
At the end of May, the consumer price index in the United States showed an increase of 5% in annual terms, which statistics have not seen since August 2008.
Compared to April, the rate of price growth accelerated by 0.8 percentage points, while core inflation, excluding energy and food, reached 3.8% on an annualized basis and peaked since 1992.
While inflation in the services market slowed to 2.9%, the rate of growth in commodity prices jumped to 6.5% yoy – the highest level since 1982, when the White House was dominated by the Ronald Reagan administration.





Among the components of the index, used cars became the record-holder for growth: their value increased by 7.3% MoM and 30% YoY. The reason – in the problems with the production of new cars at carmakers due to the shortage of microcircuits, as well as "the pockets of consumers filled with cache", says Nordea strategist Andreas Steno Larsen.
Although the GDP of the United States at the end of last year showed the strongest fall since 1946, this did not affect the welfare of Americans in any way: moreover, large-scale aid programs paid for by the budget deficit and the FRS printing press left record amounts of money in the hands of the population. Cash reserves and deposits of individuals in the United States increased by $ 2.4 trillion in a year, and in relative terms exceeded the records of the second half of the 1980s – 65% of GDP, notes ING economist James Knightley.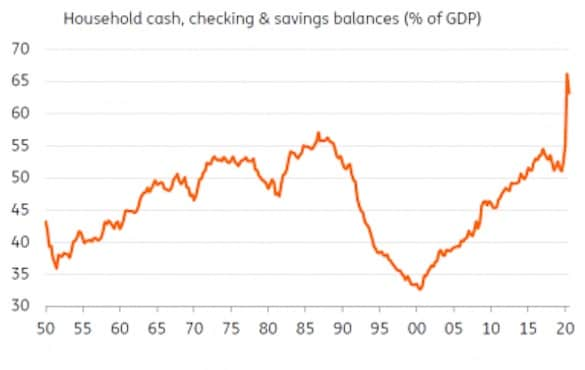 Rising consumption, labor shortages and, as a result, higher wages create constant inflationary pressures, he points out.
June data will be another "shock", and in the summer, overall inflation in the United States may reach levels of 7-8% – the maximum in 40 years, Larsen predicts.
Markets ignore the data, preferring to believe in the Fed's position, which insists that the leap is temporary, he states: treasury yields are declining, while the stock market is growing.
But the hotter inflation gets, the more doubt investors will have, Knightley said. In August, he believes, the Fed will begin to change its rhetoric, and in December, it will probably announce the curtailment of the quantitative easing program, in which it pours $ 120 billion into the markets every month.